Will being part of the LGBT community affect your career?
As of last week, Europe now has two openly gay prime ministers: Leo Varadkar, the Prime Minister of Ireland and Xavier Bettel of Luxembourg. Things have changed. Who would have thought that this would be the case within the European Union ten or even twenty years ago? However, not all countries within the EU are committed to equality when it comes to Lesbians, Gays, Bisexuals and Transgenders (LGBT). There is still much work to do for some countries when it comes to equal rights. Examples are: Marriage, partnerships, pensions and social benefits.
However, what is happening within the workforce and recruitment when it comes to LGBT emancipation? A Deloitte report found that 83 percent of LGBT individuals hide aspects of their identity at work, often because they say their bosses expect them to. In the last decade, many organizations have been focusing more and more on LGBT individuals. Some examples:
• The Work Place Pride (http://workplacepride.org/) – This organization strives for a world of inclusive workplaces where LGBT people can truly be themselves. They are truly valued and through their contribution they help to lead the way for others.
• Human Rights Watch – Has introduced the Corporate Equality Index (http://www.hrc.org/campaigns/corporate-equality-index). It focusses on US Companies and is the national benchmarking tool on corporate policies and practices pertinent to LGBT employees.
• Stonewall (https://www.stonewall.org.uk/about-us) – This charity equips people with the tools and confidence to connect with, influence and enable others in their communities, by challenging homophobic, biphobic and transphobic bullying, celebrating differences and improving inclusion and the visibility of role models.
• Some companies like Accenture, (https://www.accenture.com/us-en/company-lesbian-gay-bisexual-transgender), Chevron (https://www.chevron.com/corporate-responsibility/people/diversity-inclusion) have dedicated themselves to ensure an inclusive environment for LGBT employees.
This is of course excellent news. Companies are realizing that having a diverse employee base is an asset and it will increase the earnings. – see our blogposts on the Gender Pay Gap – A company that can pledge its support to employees irrespective of their skin colour, gender or sexuality stands to benefit hugely; firstly, by creating a sense of empowerment among employees and secondly by setting an industry standard that can pave the way for change across society. We highly suggest reading the Glass Closet: Why Coming out is Good for Business – by John Browne (former CEO of BP).
As Executive Search Consultant and being part of the LGBT community, all these initiatives are great steps towards a more inclusive future. Since the start of my career in the nineties I have noticed companies and organizations are seeing the necessity for focusing on this group. However, as consultants we still come across candidates and clients that are hesitant to come out.
Since having established Lens, part of the Kennedy Executive Network, we have interviewed many candidates who are afraid of their identity, asking questions like:
• "Being openly gay, will this have influence on my career when I move to a major financial institution?"
• "I do not want to let others know about my identity, as this is a private matter."
• "I have not officially come out of the closet, as I come from a conservative background."
Why do professionals tell us this? Part of our job as Executive Search Consultants is to find out what drives people in their private lives. In all instances, we have indicated that it should not matter. If candidates are still afraid of their identity, we try to put them in contact with important influencers within our network or have them talk to representatives of Workplace Pride. It is of utmost importance to us that next to competences, there is a cultural fit between our candidate and client. What is still astonishing is that some of our clients are hesitant in hiring LGBT people. For example, we have come across clients that require a commercial candidate that focusses on conservative clientele. Of course, they want to protect the candidate together with their own brand and reputation. Our job at Lens is to search and select the best person for the right position. This means that any excuse related to diversity is not tolerated and will be addressed accordingly, especially when doing business with our clients.
In our view it does not hurt your career being part of the LGBT community. It will add value to your own personal brand and to your career. There are many examples of professionals that are openly gay and have been quite successful: Tim Cook of Apple, Christopher Bailey of Burberry, Inga Beale of Lloyds of London or Hein Knaapen of ING Bank are just a few names in the book. Should you as candidate inform us about your sexual orientation? The answer is no! However, if you are open about it and see the importance of it being for example a role model, you should. Do not be ashamed of who you are or what you want to accomplish in life. We at Lens / Kennedy Executive will always assist you in your professional career. No matter who you are.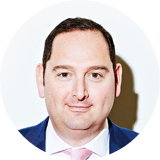 Dave is Senior Partner at Lens. His chief area of search expertise is the financial sector: the risk management and big data disciplines, especially. In addition, he is involved in a wide range of search activities around b2b positions across the globe.